These artists support the Foundation through performances at James Burton Guitar Festivals.
Jennifer Batten – Jeff Baxter – Roscoe Beck – Dickey Betts – Thom Bresh – Kix Brooks – Junior Brown – Jeff Cook – Kristen Capolino – Andy Chrisman – The Cox Family – Steve Cropper – Al DiMeola – Rick Derringer – Jerry Donahue – Seymour Duncan – Nokie Edwards – Mike Farris – Dave Grissom – Emmylou Harris – Johnny Hiland – Chris Isaak – Dr. John – Eric Johnson – Phil Keaggy – Ed King – Greg Koch – Sonny Landreth – Albert Lee – Steve Lukather – Delbert McClinton – Jim Messina – Monte Montgomery – Matthew Nelson – Gunnar Nelson – Luca Olivieri – Brad Paisley – Lee Roy Parnell – Keith Richards – Johnny Rivers – Steven Seagal – Kenny Wayne Shepherd – Ricky Skaggs – Steve Wariner – Rusty Young
---
Muriel Anderson
Muriel Anderson through Music For Life Alliance continues her support for the James Burton Foundation with a recent donation of classroom guitar amplifiers and effects pedals. This donation was in collaboration with Bob Weil of Visual Sound. Music For Life Alliance assists music advocacy groups through awards, grants, and donations. Its goal is to help the many diverse efforts across the country to make music learning accessible to young people who may not otherwise be able to experience the academic, developmental and social benefits of making music.
Music For Life Alliance also maintains a national database of music advocacy groups to help coordinate individual and organization efforts that support music education.
The Foundation is proud of our long-standing association with Muriel Anderson and Music For Life Alliance. We also sincerely thank Bob Weil of Visual Sound.
For more information see: Muriel Anderson – Music for Life Alliance – and Visual Sound.
---
Doyle Dykes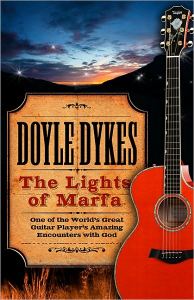 Congratulations to our dear Foundation Friend – Doyle Dykes for his recently published book – The Lights of Marfa. Doyle is a long-time supporter of the James Burton Foundation – and has thrilled audiences at three of our International Guitar Festivals. Find more information about Doyle at Hello from Doyle and www.doyledykes.com. Thanks for your support – and again – congratulations on The Lights of Marfa.
Excerpt from The Lights of Marfa
…I met James Burton when I was with the Stamps Quartet. He had such a unique persona. On the one hand he had a friendly disposition, yet on the other, there was an element of superstar status since he had recorded with everyone from Ricky Nelson, Merle Haggard, and Elvis to Johnny Mathis and Barbra Streisand. He took such control when he played his solos, especially when under the spotlight playing his pink-paisley guitar. Elvis seemed to love showing him off to the crowd.
…James asked if I would come and play at the first James Burton Foundation Guitar Festival. Since then, I have been the only guitarist invited to the Festival multiple times. What a privilege to have shared the stage with James, Steve Wariner, Brad Paisley, Eric Johnson, Al Dimeola, Steve Lukather, Emmylou Harris, Kenny Wayne Sheppard, Dickey Betts, Sonny Landreth, Mark Farner, Johnny Rivers, Phil Keaggy, and many others. The official emcee has been John Goodman for several years in a row. When my daughter Haley and I performed Amazing Grace, John Goodman wept!

The James Burton Foundation has given away literally thousands of guitars to those less fortunate. He and his wife, Louise, gave me thirty guitars to give to a charity or a special cause of my own choosing. I chose to give them to the elementary school where my brother, Aubrey, was the music teacher. I will never forget the day my daughter Haley and I went to the school to perform a concert and present the guitars. When the curtains opened to reveal the guitars, I experienced the loudest screams I had heard since that time I saw Elvis in Fort Worth.